HINGE BORE BIT 35MM TUNGSTEN TIPPED
Brand:
TORK CRAFT
Product Code:
TCHB35-2
Barcode:
6009515803384
Availability:
945
Recommended Price: R389.51
Excluding VAT: R338.70
35mm Hinge boring bit - TCT.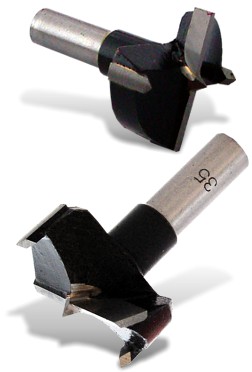 For European style concealed hinges. Includes side cutting "spurs" for fast, clean boring.
S

uper-strength steel

TCT

head with precision balanced centre point
2 TCT precision ground cutting edges (Z2)
2 Ground spurs (V2)
The secret to creating seamless, flush cabinets in your home is to use hidden hinges instead of the traditional cabinetry hardware. They are also known as cup hinges or European hinges, concealed hinges install on the inside of the door.
Unlike traditional, exterior butt hinges, these hidden hinges can adjust after installation for a perfectly hanged door.
They require a 35mm metric Forstner drill bit – also called a hinge-boring bit - for their installation because these hinges were only available from European manufacturers for many years. These hinges are readily available in most hardware stores.


Concealed hinges require a flat-bottomed hole drilled in the back of the door stile. The depth and location of the hole vary according to hinge type, but the diameter is usually 35 mm. If the door is to have a profiled edge, make sure that the router bit doesn't cut into the hinge hole (or vice versa).
Holes for concealed hinges can be drilled with any of several jigs that work in conjunction with a handheld drill. The jigs can be adjusted to various door configurations. The most common tool used for drilling these holes, is a drill press and considered the safest method too.
Overlay or inset type hinges
Cabinet doors are lumped into two basic groups, inset and overlay, and each requires different concealed hinges. Inset doors are positioned inside the frame. Overlay doors are mounted over the face frame, extend 19mm or more past the opening, and are far less difficult to install. Half-overlay doors continue 9mm to 12mm past the opening.

| | |
| --- | --- |
| Description | Spec |
| Best application | Concealed hinges |
| Cutting Width | 35mm |
| Safe application | Drill press |
| Type | Tungsten Carbide tipped |