Square aluminium case with 4 trays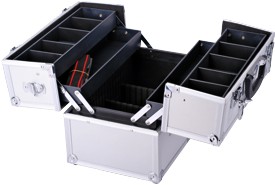 Aluminium case with 4 expanding trays.
SIZE: 365mm x 225mm x 250mm
MATERIAL: Aluminium
Application:
The case is compact with four expanding trays that include deviders to further organise your storage.
Possibilities:
The case could be ideal to store essential tools in your car as a mini toolbox.
The case could be transformed into a fishing kit.
Benefits:
Made from lightweight, but durable aluminium.
Two latches keep the lid closed during transport.
A carry strap is included.