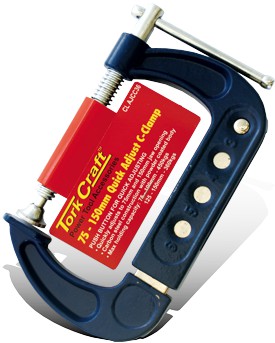 Adjustable clamp range: 75-150mm
Max holding capacity: 75-100mm - 450Kg
                                 125-150mm - 360Kg

Application:
The G-clamp is used to secure workpieces to a bench or a template during an assembly. It can also be used in woodwork projects to glue/join pieces of wood.
The G-clamp is manufactured from carbon steel and has been powder coated. The clamp can be adjusted from 75-150mm with a quick adjusting push button.
NOTE:
Release the clamp pressure before adjusting the clamp.
consider safety for your health and the people around you

General safety suggestions:

It is advisable to always have the following items nearby and in a good condition

Eye protection – clean and scratch free
Hearing protection – quality earmuffs
Dust masks – discard old and dirty masks
Gloves – for easy handling of material and hand protection

Wear Gloves

Eye Protection

Hearing Protection

Dust Mask