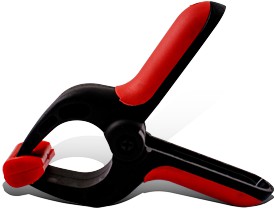 Clamp capacity: 38mm
Clamp length: 100mm
Body material: Nylon
Application:
The spring clamp is manufactured from nylon. The jaws have swivel pads to clamp irregular shapes and to prevent surface damage when clamping.
It can be used for many holding, joining and setting applications. The spring-operated jaws hold any material quickly and efficiently within its clamping capacity.
consider safety for your health and the people around you

General safety suggestions:

It is advisable to always have the following items nearby and in a good condition

Eye protection – clean and scratch free
Hearing protection – quality earmuffs
Dust masks – discard old and dirty masks
Gloves – for easy handling of material and hand protection

Wear Gloves

Eye Protection

Hearing Protection

Dust Mask