20mm Drill Chuck with key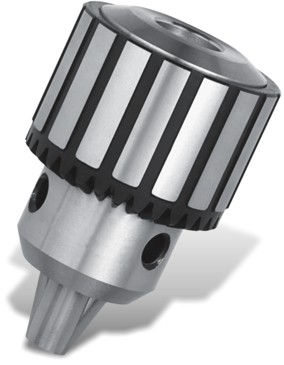 20mm Keyed chuck with B22 taper. A correct taper adapter may be required to fit the chuck to your machine application. This version is B22 (Metric DIN standard).
B22 taper

Large taper diameter: 21.793mm
Small taper diameter: 19.80mm
Taper length: 40.50mm

Opening capacity: 20mm
All metal construction
Chuck key included
Installation Info
Clean both tapers of all grease and grit. With the chuck jaws completely retracted into the chuck and using a thin piece of wood to protect the chuck nose, tap the chuck into place on the spindle/taper adaptor.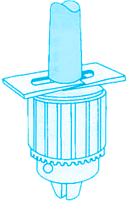 To remove chuck from arbor
Insert wedges between the back of the chuck and the shoulder of the arbor as shown in the picture on the right.

By tapping these wedges with a hammer or applying force in a bench vice, the wedges will force the chuck off the arbor shaft.

20mm Drill Chuck with key

| | |
| --- | --- |
| Description | Spec |
| Chuck type | Taper |
| Taper type | B22 |
|    Taper Ø LARGE  | 21.793 mm |
|    Taper Ø SMALL  | 19.80 mm |
|    Taper LENGTH | 40.50 mm |
| Capacity | 20mm |
| Construction | All Metal |
| Chuck key | Included |