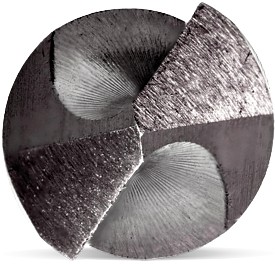 Drill diameter: Ø2.0mm
Packaging: Carded 2
Point: 135° split point
Drill bit: HSS (Hi-speed steel)
Application:
The drill bit is made from HSS (hi-speed steel) and is precision fully ground at 135° with a split point. The drill bit can be used to drill materials such as iron, steel, non-ferrous metals and plastics.
Advantages:
Standard HSS 118° angle point drill bits are designed as an all purpose drill bit and it will cut most materials.
Industrial HSS 135° angle point drill bits are designed to cut metal. The split point adds 2 extra cutting edges with the adantage of reducing the amount of pressure required to perform the cut.
Sharpening:
The drill bits are re-sharpenable several times. We recommend the following machines as it will sharpen 135° HSS  split point drill bits with ease:
Drill Doctor® 500X - Diameter range of 2.4mm - 13mm (19mm accessory available)
Drill Doctor® 750X - Diameter range of 2.4mm - 19mm
DAREX® V390 - Diameter range of 3-19mm
consider safety for your health and the people around you

General safety suggestions:

It is advisable to always have the following items nearby and in a good condition

Eye protection – clean and scratch free
Hearing protection – quality earmuffs
Dust masks – discard old and dirty masks
Gloves – for easy handling of material and hand protection

Wear Gloves

Eye Protection

Hearing Protection

Dust Mask