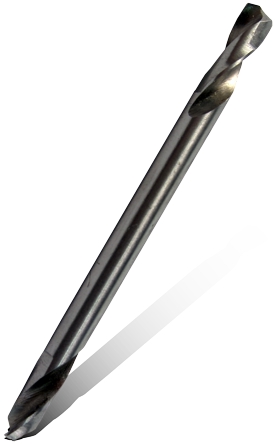 Drill diameter: Ø3.5mm
Packaging: Packet of 10
Point: 135° split point
Drill bit: HSS (Hi-speed steel)
Application:
The double end stubby drill bit is made from HSS (hi-speed steel) and is precision fully ground at 135° with a split point.
The split point adds 2 extra cutting edges with the adantage of reducing the amount of pressure required to perform the cut.
The sturdy double end allows for twice the usage making the drill bit more economical and practical. Ideal for autobody repair work.
Sharpening:
The drill bits are re-sharpenable several times. We recommend the following machines as it will sharpen 135° HSS  split point drill bits with ease:
Drill Doctor® 500X - Diameter range of 2.4mm - 13mm (19mm accessory available)
Drill Doctor® 750X - Diameter range of 2.4mm - 19mm
DAREX® V390 - Diameter range of 3-19mm
consider safety for your health and the people around you

General safety suggestions:

It is advisable to always have the following items nearby and in a good condition

Eye protection – clean and scratch free
Hearing protection – quality earmuffs
Dust masks – discard old and dirty masks
Gloves – for easy handling of material and hand protection

Wear Gloves

Eye Protection

Hearing Protection

Dust Mask