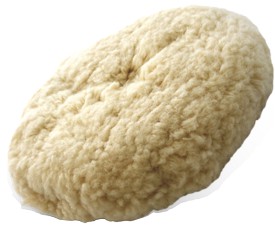 Diameter: Ø230mm
Thread/Hook & Loop: 5/8 UNC
 Application:
The double sided wool buff should be used with an automotive polisher. Different compounds, polishes and waxes can be applied to both sides of the buff and then flipped around when needed. This saves time without the need of changing to another buff.
It is necessary to polish a vehicle body panel when:
The panel has been newly painted with a clear-coat.
Shallow scratch marks need to be removed.
The panel has suffered from oxidation.
Swirl marks and hologram defects need to be removed.
TIP:
The buff is washable after use if the compound is soluble.
Double sided wool buff range:
| | | |
| --- | --- | --- |
| ORDER NO. | DIAMETER | THREAD |
| MM DS7 | Ø180mm | M14 |
| MM DS7-2 | ø180mm | 5/8 UNC |
| MM DS9 | ø230mm | M14 |
| MM DS9-2 | ø230mm | 5/8 UNC |
Adaptors to convert or lenghten the polisher's thread:
| | | |
| --- | --- | --- |
| ORDER NO. | MALE THREAD | FEMALE THREAD |
| SPC00055 | 5/8 UNC | 5/8 UNC |
| SPC00053 | 5/8 UNC | M14 |
| SPC00054 | M14 | 5/8 UNC |
| SPC00052 | M14 | M14 |
Recommended polishing compounds to use:
Liquid Shine™ High cut - Features a silicone, wax and filler free polishing compound to give a high gloss finish on fresh or cured paint. It is capable of removing P1500 grit sanding marks. It can be used on automotive paints, marine gel-coats and on composite surfaces.
Liquid Shine™ Fine cut - similar to the High cut polishing compound, but it is designed for use on a ceramic and scratch resistant clear-coat. It is capable of removing P2000 scratch marks.
Liquid Shine™ Zero swirl - Very low abrasive for the final step of polishing. Removes holograms and swirl marks. Use a soft compounding sponge as a final step
Steps to take when polishing a panel:
1. Preparing the panel:
Sometimes a panel has fine over-spray left from spraying the clear-coat. This needs to be removed by lightly sanding with a fine abrasive paper. All over-spray need to be sanded out up to P1500 grit.
The panel should be washed when all spray-finishing defects have been removed. Any dirt particles could cause scratch marks when polishing.
Tight curves and ends of the panel should be masked-off to prevent the effects caused by point pressure. The polisher should always be used on flat surfaces.
2. Applying the polishing compound:
A five rand coin amount of polishing compound should be applied to the sponge. Switch the polisher to it's lowest speed setting.
Switch on the polisher and gradually spread the polishing compound over the panel.
Keep moving the polisher on the panel to have as little amount of pressure and friction.
The polishing compound will remove the scratch marks caused by the P1500 sand paper and it will bring out an impressive gloss finish.
Remove the masking from the panels and apply the polishing compound to a microfiber cloth. Hand polish (by moving your hand in a small circular motion) the tight curves and ends in the panels until the same finish is achieved as from the polisher.
3. Wash the panel when finished:
Wash the panel after polishing to remove any residue from the polishing compound.
consider safety for your health and the people around you

General safety suggestions:

It is advisable to always have the following items nearby and in a good condition

Eye protection – clean and scratch free
Hearing protection – quality earmuffs
Dust masks – discard old and dirty masks
Gloves – for easy handling of material and hand protection

Wear Gloves

Eye Protection

Hearing Protection

Dust Mask