Water & Dust Proof Hard Case
Tork Craft safety and transport cases withstand the most extreme weather conditions and fluctuating temperatures. The robust hinges offer maximum security while rubberized handles provides comfortable wear. The special air supply and exhaust valves ensure adequate ventilation of, in the supplied Super-foam embedded, transported goods.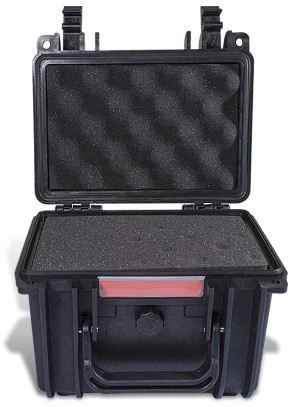 Excellent heavy duty, professional equipment case for serious photographers, videographers, audio specialists, sportsmen and outdoor enthusiasts. These boxes will protect your important gear from the elements. A must-have to transport sensitive equipment and instrumentation.
Its vital stats:
Volume of 3 litres
Dimensions of 225 x 190 x 170 mm
Ultra-light (0.92 kg),
Waterproof and buoyant (up to 2.4 kg).
Features:
Waterproof, crush-proof and dust-proof 

Easy open double throw latches 
Overlapping interlocking lid eliminates any distorting, mismatching and contributes to an overall sturdier case
Molded-in padlock holes
With foam.
Unique features
Air Valve 
 
Robust hinges and latches 
The special air-valves allows air-seal the case. It also can be used to create a pressure balance inside the case.
The strong latches and hinges guarantee a secure closure even under severe conditions.
 
 
 
 
 
Superfoam
Robust handles
Superfoam offers a perfect protection for contents. By removing single foam blocks, the foam transform perfect fitting.
 
Strong handles provide good grip and great comfort. These handles are tough and almost unbreakable.
Specifications
| | |
| --- | --- |
| Description | Spec |
| External dimensions: | (L x W x H): 225 x 190 x 170 mm |
| Internal dimensions: | (L x W x H): 180 x 120 x 140 mm |
| Material: | PP (Polypropylene) + GF (Glass fiber) |
| Weight: | 0.92 kg |
| Volume: | 3 litres |
| Colors: | Black |
| Range temperature: | -40 °C ~ 90 °C |