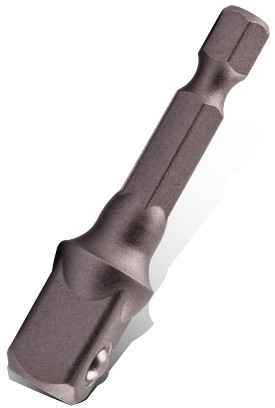 For socket: 3/8'
Length: 50mm
Shank: 1/4' Hex
Packaging: Carded 1
Application:
The square adaptor features a hex insert and a ball-detent end that can be used with sockets.
The adaptor can be used with:
Both an electric drill or a cordless drill.
A ratcheting screwdriver to be used as a ratcheting nutdriver.
IMPORTANT:
Use a drill/driver with a safety clutch to prevent injury.
consider safety for your health and the people around you

General safety suggestions:

It is advisable to always have the following items nearby and in a good condition

Eye protection – clean and scratch free
Hearing protection – quality earmuffs
Dust masks – discard old and dirty masks
Gloves – for easy handling of material and hand protection

Wear Gloves

Eye Protection

Hearing Protection

Dust Mask