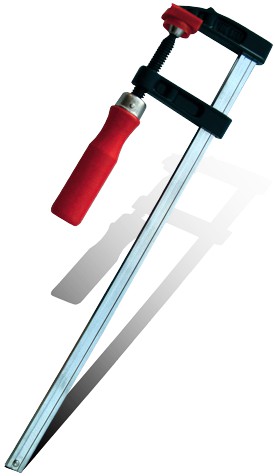 Clamping length: 1500mm
Throat: 120mm
Rail: Steel
Jaws: Malleable cast iron
Spindle: Steel
Handle: Wood

Application:
The F-type clamp is also referred to as a speed clamp. It is similar to a G-clamp in use, but has a wider throat (opening capacity) and is faster to clamp and to readjust.
Use in woodworking:
Wood assembly and joinery (screws, glue, biscuits).
Clamping down edging to board material.
Use in metalworking:
Holding pieces together for welding.
Holding and aligning pieces together for drilling and bolting.
Other uses:
Securing workpieces to a bench or a template.
Features:
Non-marking pressure pads to prevent surface damage.
All steel construction ensures durability and added strength.
Wooden handle for added grip.
consider safety for your health and the people around you

General safety suggestions:

It is advisable to always have the following items nearby and in a good condition

Eye protection – clean and scratch free
Hearing protection – quality earmuffs
Dust masks – discard old and dirty masks
Gloves – for easy handling of material and hand protection

Wear Gloves

Eye Protection

Hearing Protection

Dust Mask