Application:
A pipe clamp is a must have clamp for any woodworker. It is extremely strong and easy to use compared to other sash clamps. This fixture will convert any Ø25mm OD steel pipe into a sash clamp.
Standard sash clamps have a length restriction. The longest sash clamp available is 2,5m. Pipe can be bought in various lengths, where 6m is the longest. Thus being able to clamp large projects with ease.
How to start using the pipe clamp fixture:
The pipe can be purchased from steel merchants to the desired length. The outside diameter needs to be Ø25mm.
The preferred pipe to use is called 'black pipe' or 'steam pipe' (the thicker the wall thickness, the stronger the clamp will be). We advise not use a galvanised pipe (the galvanising could cause the jaw clutch to slip).
Both ends of the pipe are required to be threaded with 3/4'' BSP (British Standard Pipe) thread.
The endpiece is tightened onto the pipe's thread.
The clamping jaw has 3 hardened steel disc clutches that slide on the pipe. It will retain clamping force once a workpiece is being clamped.
TIP:
Two clamping pads can be made from plywood to enlarge the clamp surface area. This will ensure that the clamp face is 90° with the workpiece and it will cause less damage (clamping marks) when the clamp is tightened.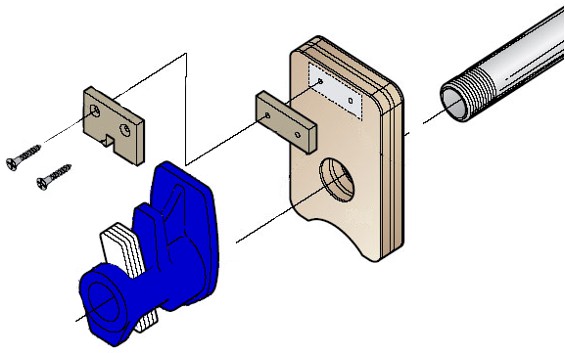 consider safety for your health and the people around you

General safety suggestions:

It is advisable to always have the following items nearby and in a good condition

Eye protection – clean and scratch free
Hearing protection – quality earmuffs
Dust masks – discard old and dirty masks
Gloves – for easy handling of material and hand protection

Wear Gloves

Eye Protection

Hearing Protection

Dust Mask