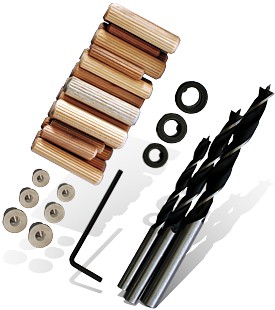 Everything you need for dowel joints in this one convenient kit.
Includes:
(x10) Fluted dowel pins 10x40mm
(x10) Fluted dowel pins 8x40mm
(x10) Fluted dowel pins 6x30mm
(x6) Dowel centers
(x1) 10mm brad point drill bit
(x1) 8mm brad point drill bit
(x1) 6mm brad point drill bit
(x1) 10mm drill stop collar
(x1) 8mm drill stop collar
(x1) 6mm drill stop collar
(x1) hex key wrench
Application:
The doweling accessory set includes everything needed to conveniently join with dowels.
The process starts with having the collar fastened onto the drill bit to the correct depth position. In this case it would be 20mm or 15mm. Use the correct drill bit for the corresponding dowel pin size.
Up to 2 holes per side can be drilled with the brad point drill to the correct positions.
The dowel centers are then inserted into the already drilled holes. It is used to transfer the center points to the other piece of wood.
A rubber mallet or suitable hammer can then be used to transfer the center marks.
Repeat step 2 to have the correct depth drilled holes on the other side.
Clean out the drilled holes of excess dust and debris.
Glue can be then be applied to the holes and the dowels can be inserted. Make use of clamps to keep the join secured until the glue has set.
Dowels can also be used for:
Furniture shelf supports.
Supports for hanging items such as clothing, key rings, tools etc.
Joinery.
Dowel-based joinery typically employs fluted dowel pins. A fluted dowel pin has a series of parallel grooves cut along its length.
Why are the dowels fluted?
The fluting provides channels through which excess glue (which is used to secure the dowel pin in its hole) can escape as the dowel is inserted, thereby relieving the hydraulic pressure that might otherwise split the timber when clamped together.