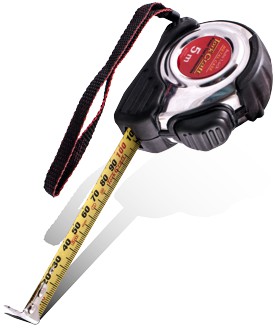 Measuring length: 5m
Blade width: 19mm
Application:
The retractable measuring tape is an extremely useful tool to be used in all measuring applications.
Features:
Auto locking mechanism.
Metal and rubber protective casing.
Easy to release.
20% thicker blade for added durability and longer life.
Using a measuring tape: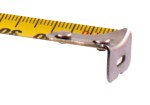 The end piece (metal hook) is designed to fit loosely on the end of the measuring tape. It allows for inside and outside measure-ments. For inside measurements the end piece will compress by the thickness of the hook. For outside measurements the end piece will expand by the thickness of the hook.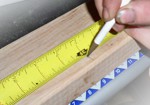 Always make sure that there is no slack caused by the end piece when measuring. The tape is naturally cupped out to reinforce the measuring blade. When marking a measurement, flatten the measuring blade to increase accuracy on the area being marked.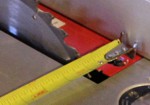 When adjusting the fences on a table saw or a band saw, make sure the machines are switched off when using the measuring tape.
Maintenance:
The measuring tape's accuracy needs to be checked often. The end piece can get bent over time and it is easy to fix by straightening it by a pair of pliers.