30 Aug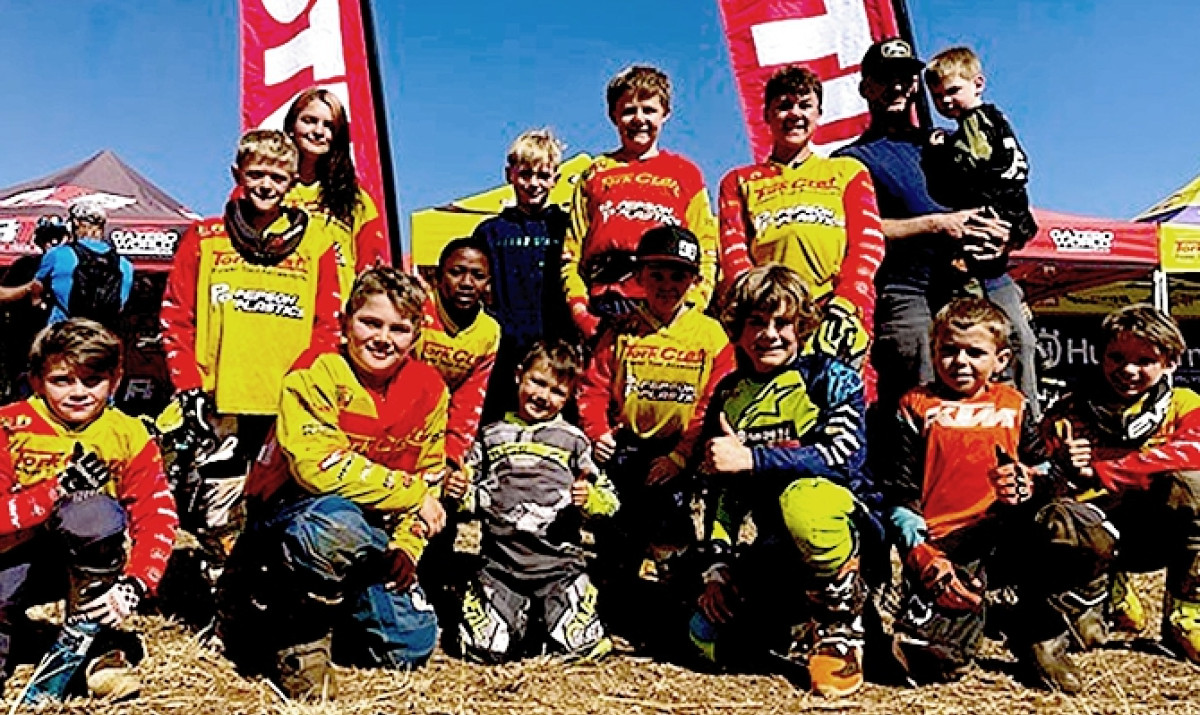 Media Release
| | |
| --- | --- |
| What | The Ride Train Race Motocross Academy |
| Where | Midrand, Gauteng |
| When | Wednesday 30 August 2023 |
| Community | South Africa National |
RIDE TRAIN RACE OPENS MOTOCROSS DOORS
Team Tork Craft Motocross Academy delivering the goods
Motocross is a challenging sport. To win, it requires supreme dedication, not just from the rider, but also from his or her family to succeed. And that from a very young age. It is also no small task to come in from the outside and bring your kid up to speed. That's were Team Tork Craft's Ride Train Race motocross academy comes in.
Established by South African motocross legends Tony Riddell and Ryan Hunt, Ride Train Race, or RTR, strives to ease the young racer's road to motocross success. "Motocross is not the easiest sport to get into, especially for an outsider," Tony Riddell explains. "Once you're in, it's just as difficult to progress in what may seem a strange and competitive world, for both the rider, and his or her support group and family too.
"That's what prompted Ryan and I to put a little back into the sport that gave us so much in the form of a riding academy. Ride Train Race looks after the interests of young motocrosser and their families, as a bridge into the sport. RTR is not just about putting a kid on a bike and expecting them to fly overnight. RTR will ease the rider in, and gradually grow him or her, to eventually become the seasoned motocrosser they so strive to be.
"We work hard to control expectations. There's nothing wrong with starting slowly and growing to be ready to race at club level. Then we can progress to regionals and go race nationals when the kid is right and ready. RTR strives to equip each of our kids with the tools and experience to succeed, one step at a time. It's also vital to teach parents how to work with and grow the kid, especially those with no previous racing experience."
Ride Train Race trains young cross country motorcycle racers on the finer points of race fitness, mental preparation, racecraft, riding style and everything else required to race motocross competitively. RTR presently has 24 up-and-coming young motocrossers on its books all around Southern Africa. Some are still finding their feet and building up to their first race, while others are already competitive at national level.
Among RTR's riders, Zoe Botha sits fourth the National Ladies MXs chase and Jaedyn Chetty has just stepped up to 125 high school. Deruk van Aswegen and Cameron Stuckie are learning fast in National 85cc MX, with Katelyn Pretorius doing the same in 85cc Cross Country. Rayden Woolls sits sixth in 65 National MX, where Botswana lad Lourens Erasmus and Hendrico Barwise have also impressed, and Luan Jordaan has stood out among the 50s.
"Tony and I are proud of what Team Tork Craft's Ride Train Race is achieving within South African motocross and off road motorcycling," Ryan Hunt concludes. "Winning in motocross takes a huge amount of effort, but it's not easy for any youngster to learn or know all that, never mind where to start. RTR aims to give young motocross riders and their families the understanding and the means of what to do, and how to achieve success in the long run.
"Team Tork Craft's Ride Train Race is already delivering motocross race winners and future champions. Now we look forward to building on our achievements as we keep on helping pave many a motocross kid's way into the sport we love."