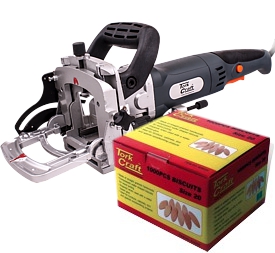 Wattage: 900W
Rotation speed: 11000 RPM
The set includes A box of No. 20 biscuits.
Application:
A biscuit joiner is a woodworking tool used to join two pieces of wood together. It uses a small circular saw blade to cut a crescent-shaped hole in the opposite edges of two pieces of wood or wood composite panels.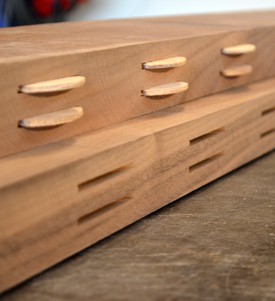 An oval-shaped, highly-dried and compressed wooden biscuit (made from beech wood) is covered with glue, or glue is applied in the slot. The biscuit is immediately placed in the slot, and the two boards are clamped together. The wet glue expands the biscuit, further improving the bond.
Benefits:
The grain direction on the biscuits are diagonal to add strength to the joinery.
The biscuit provides a quick means of getting a perfectly flush joint, while at the same time reinforcing the joint.
Biscuits for the biscuit joiner:
ORDER NO.
SIZE
QTY
PC5551
#0
Box of 1000
PC5552
#10
Box of 1000
PC5553
#20
Box of 1000
BIS010
#10
Box of 1000
BIS020
#20
Box of 1000
PC5551-50
#0
Pack of 50
PC5552-50
#10
Pack of 50
PC5553-50
#20
Pack of 50
PC5553-100
#20
Pack of 100
BIS378
378 Pc biscuit kit
Spares for the biscuit joiner:
| | |
| --- | --- |
| ORDER NO. | DISCRIPTION |
| TCP10008 | ø100x22.22xZ8 blade |
| CMT240.008.04 | ø100x22.22xZ8 blade |
| BJ01-3 | Field coil (stator) |
| BJ02-1 | Armature |
| BJ01-2 | Carbon brushes |
| BJ01-4 | Switch |
| BJ01-5 | Slide hook for switch |
NOTE:
Biscuits may also be referrred to as plates.
consider safety for your health and the people around you

General safety suggestions:

It is advisable to always have the following items nearby and in a good condition

Eye protection – clean and scratch free
Hearing protection – quality earmuffs
Dust masks – discard old and dirty masks
Gloves – for easy handling of material and hand protection

Wear Gloves

Eye Protection

Hearing Protection

Dust Mask